it rocked! I had the time of my life...i don't know why this time around it was much more fun than the past times
(which to date i have lost count of)
i've been going for these sorta thing.
Cool roomies? Checked!
Comfy hotel room? Checked!
New cool friends? Checked!
Great race? Checked!
Scrumptious food? double checked! =)
Yea...it's the food factor...haha so i live to eat! Sue me! ahahha we had loads n loads of seafood...ranging from clams, to crabs, to
oh chien
....mm mamamiyah! Muah! hahaha...
Took some pics to illustrate the fun i had!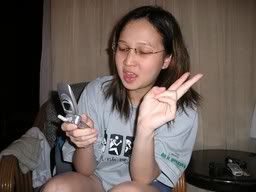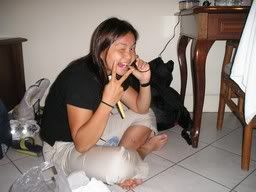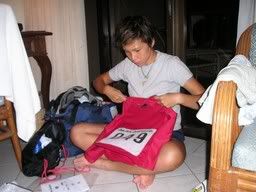 that's Michelle Toh-Ellaine-Ashley Lim...wacky roomies!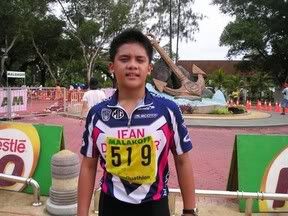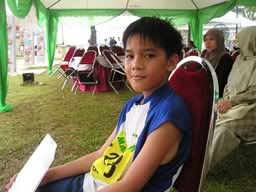 these two are way cute! Matthew and Timothy
(Timmy)
. 14 and 12 years old respectively...they both did the sprint with me!
Jessen-Me-Sulaiman. hehe Sulaiman is funny wei...darn funny...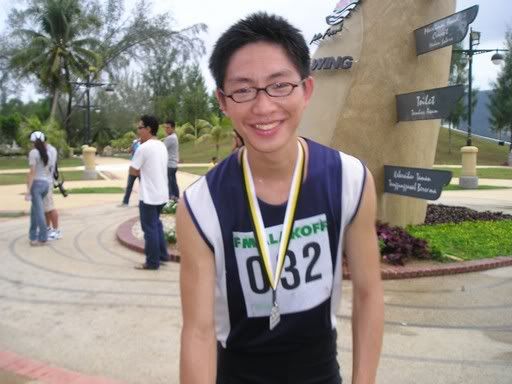 I'm sure u guys know this fella. If u stay in Subang, or study in any of the colleges in SS15 i reckon you have seen him at least once, running like there's no tomorrow! He did the full individual! Atta boy, Isaiah!! And i still can't believe he's Kee Lina's brother! haha
yup...as for myself...i'm happy..so happy. My 3k run, 20k bike, 3k run was great...the weather was perfect! Only flaw was i have a feeling the 3k was longer than it should be. Someone please justify with me?? Anybody who took the sprint? I can
not
do 3 km in 25 minutes! And the bike, which i all along thought it was 15 km, turned out pretty good! i usually take about 28 mins for 10 km on the exercising bike at home, and this time i took 50 minutes for 22 km!
*pats self*
. I can get used to this. Next time it's the
full individual
for me! yeaa!!!
And i was so psyched about doing a full tri soon, i went
swimming
just now with my dad! ahaha i did 500m breaststroke, then 50m free sprint, then 200m breast again. Right now all i wanna do is EAT. I'm soooo hungry~! So the moment daddy, mummy n keith returns from Syabas I'm so gonna drag them all out to Asia Cafe for
roast chicken wings
!!! ahahhaha