yes...another dear friend of mine is leaving to embark on yet another exciting journey...with his other half, mind you. i keep sending people off...when am I gonna be sent off?? boo u Kenny! hehe...

had Fatty Crab just now to celebrate:-
1) Pei jien's belated birthday
2) Kenny's farewell
3) Julie's pre birthday

The ever gorgeous Pei Jien =)
hehe...the girl likes to be known as gorgeous...can u blame her?
Julie my bestest gurlfriend....
hehe....we figured we needed something other than classic cheesy smiles
Kenny
i can't say i won't miss you....
you know the 3 of us used to be tight! hehe...Pei jien-me-julie


erm...tall...dark...and handsome? Han yang-daniel c-kenny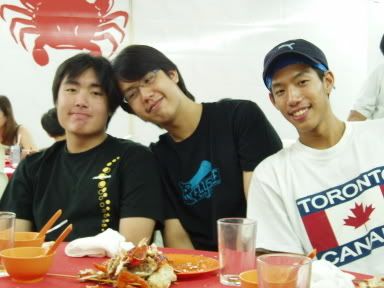 aww...see how much they miss him already....
mamasitas! from top L-R clockwise:
Julie, Anne, Ca-Ryn, Pei Jien, me, Ven Nee
I wanted to put more in....but Blogger's not permitting me...grr...will try to add in more tmr...don't worry weng lum, u have not been forgotten! :)