Had the MAPCU road relay this morning...and i have to say, i totally underestimate the level of sports in Colleges. i was pretty psyched about it, thinking we may have a chance at winning....but little did we know every college had their share of long legs and toned muscles. haha
and of all the teams we had to lose to, we lost to IMU. IMU sent 2 teams, and we got trashed by both of 'em. i say, the future of our health rests in very good hands :) the funny thing was after they announced the winners, the mc had the cheek to say "Short announcement: May all runners of IMU please proceed to the back of the hall for a urine test". haha...u never know what those medical marvels concocted to boost their speed!
and the last runner of IMU? the one who brought the team their gold medals? He was hot. He was tall and handsome. he was built! His arms were fully toned. His legs were so muscular! gosh! he wasn't beefy, he was just extremely fit! i personally admit that i couldn't take my eyes off him as he grazed the finish line with his long strides! I soooo wanted a picture of him but apparently i wasn't the only one. Girls swooned after him, and camera crews from malaysia college and malaysia today press were hovering around him. it was pretty impossible to get to him. darn it! haha
well, i'll have to find out who he is. see if my pals in IMU could source him out for me! ahhaha hey, i just want to get to know another runner. :)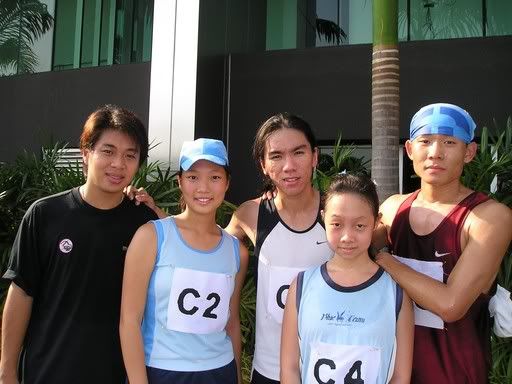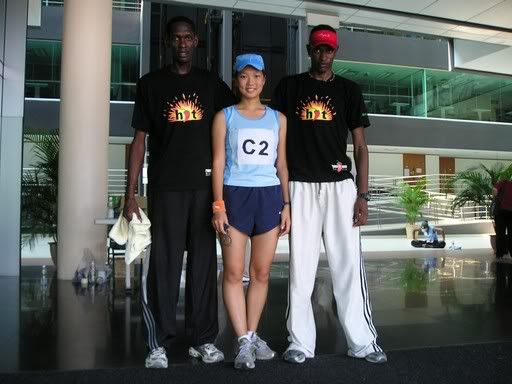 This is Tawfig and Mustaffa from Sunway college. When i saw them, my hopes were diminished by half! ahahah....darn it metro...why don't they give scholarships to elite runners like these!!
here's the results:
1. IMU 1
2. Sunway
3. HELP
4. IMU 2
5. Metropolitan
Least we trashed Inti! ahaha...