When in despair, friends will be there. But what if friends start to leave? To somewhere far far away? Life will be different. Not even with today's technology will life ever be the same again. I love changes. Most of them. But this is one change I'll feel stabbed in the heart should it happen.
Went out with the OB CA clan again today. Was a pretty
lazy outing
since we didn't do much. Bowling was kinda fun though. And jokes about Eugene and his 2 year plan regarding water conservation in Perth did spice things up a bit too...hahaha....
But what touched me the most was watching Poh Leng say bye to Mel. Heartfelt hug that refused to end...warm friendly peck on the cheek...it all seemed so...sad. I do not know much, but I do know that separation is not easy on any best friend. I know it. If I could feel the absence when my best friend got a boyfriend, I would inevitably feel the void when she leaves for another country. Or when I leave. It's gonna happen. It's bound to. And I can't help it.
Anyway, took some pics. Enjoy...:)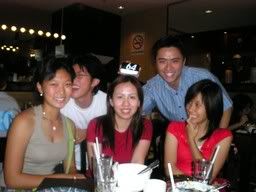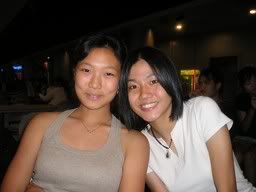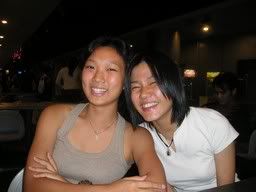 Eugene was feeling a bit...naughty, i guess. haha...That's all. I'll be going to
Raub
tomorrow for the
Chinese New Year
. Will be back on
Thursday, 10th Feb
.
Here's wishing all those who celebrate it out there:
Gong Hei Fatt Choy!
Gong Xi Fa Chai!
Keong Hee Huat Zhai!